OUR SERVICES
COMPREHENSIVE EYE EXAM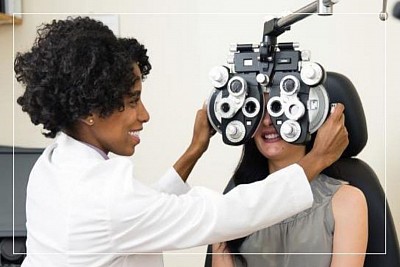 A comprehensive eye examination is an eye exam performed by an optometrist. It involves a thorough examination of all aspects of your vision. The optometrist will then recommend a treatment plan, customised to your individual needs. This includes prescription lenses, eye exercises, eye drops or ointment, and even surgery if the problem is serious.
WHAT TO EXPECT FROM AN EYE EXAM
An eye exam may vary slightly depending on your age or specific needs, but most commonly include these tests:
Visual Acuity: This is a test to measure the sharpness of your vision.
Colour Blindness: A screening test to check your colour vision to rule out color blindness.

Cover Test: This is the simplest and easiest way to test if your eyes work well together.
Ocular Motility or Eye Movements: This test determines how well your eyes can follow a moving object as well as fixate on different targets. Issues with eye movement can cause eye strains and lead to difficulties in reading.
Intra Ocular Eye Pressure: this test involve testing the pressure in your eye. It helps with the diagnosis of conditions like Glaucoma. 
Slit Lamp Exam: This is a specific test your optometrist uses to examine the structure of your eye under high magnification. This helps detect a wide range of eye conditions and diseases including cataracts, corneal ulcers and diabetic retinopathy.
Comprehensive eye exams have many more tests, but these are the most common and cover a wide spectrum of potential eye conditions.
PRESCRIPTION SPECTACLES AND SUNGLASSES
We offer a wide range of spectacles and sunglasses
We prescribe Spectacles to people with refractives errors or those who need glasses to correct their blurred vision. 
We also prescribe Sunglasses to people with light sensitity to protect the eyes from sunlight, especially from UV rays or blue light rays.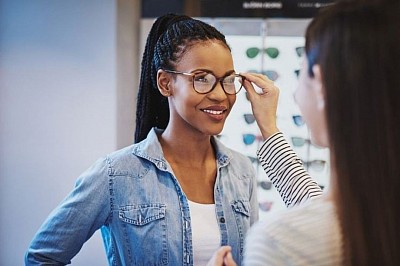 Spectacles
CONTACT LENSES
Our optometrist will assess your eyes to ensure they are healthy and measure your prescription to determine what type of lenses may be best. They will also find out if there are any additional features your contact lenses should have or if you need speciality lenses.
Then they'll prescribe the suitable contact lenses for your eyes
LICENSE CERTIFICATE SCREENINGS
You need to meet the minimum eyesight standard according to the Snellen rating in order to drive on South African roads. The minimum visual acuity is 6/12 (20/40) for each eye, and a visual field of 120 degrees is needed to operate a vehicle safely. If an applicant's vision cannot be corrected to meet this standard, they will not be eligible for a driver's license.
Get a license vision screening prior to booking your license. This will save you time and stress of going up and down.